Engage in conversations with your customers 24/7
Build an AI Based Chatbot in Minutes
What if you could generate tons of leads by launching your own "AI chat bots" in minutes?
2

Upload your business data
3

Test chatbot for accuracy
4

Launch your AI chatbot
ENGAGE, DELIGHT, CONVERT
AI chatbot triples conversions and
increases customer satisfaction by 300%.
Enrol chats comes with the following benefits viz.,

Live chat with an agent
Rather than speaking with agent on the phone, website visitors can engage in a live conversation.

Automated (navigable) Decision tree
Chatbots offer customers to choose from options presented in the form of navigable quick reply buttons.

AI and ML-based chat
Some are self-learning bots based on Artificial Intelligence (AI)/Machine Learning (ML) approaches.
Types of Chats
There are many types of chats available; a few of them can be majorly classified as follows:
Live chat: a real-time, one-on-one chat conversation between a customer and a customer service agent.
Chatbot: an intelligent, live and a human-like conversational bot that can interact with those who visit your website.
You can build a bot with a) navigable buttons (decision tree with quick reply buttons) or b) NLP found with Artificial Intelligence – AI/Machine Learning – ML algorithms.
Enrol chat is a hybrid chat with all the above features built-in with an additional API integration element. Meaning enrol chatbot can be integrated with backend business systems so that a chat user can get whatever information he seeks, e.g., a patient seeking an appointment with a doctor, a customer checking shipment delivery, etc.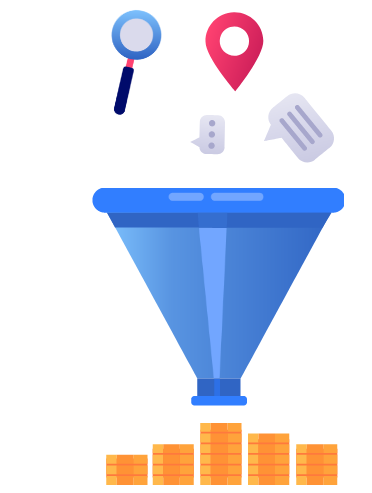 Respond instantly
Your chatbot can engage in simultaneous conversations and respond to thousands of your customers instantly.
Available all-day
A chatbot is available 24 hours, 7 days a week, and often answers customers' questions instantly than a human agent can.
Consistent Answers
Trained chatbots work day and night to serve your customers and provide a consistent experience with zero room for errors and mistakes.
Generate more leads
Your bot can engage your prospects with a human-like response. It initiates conversations, warms-up and passes it over to the sales team.
Lower the burden
Enrol bot handles up to 80% of the support tasks, but it can also boost your customers' experience substantially.
Multitasking
It can take care of lead management, online booking, appointment scheduling, payment processing, reporting, and other administrative tasks.
Switch bot to live chat
When the topic calls for it, bot hands the conversation over to a live chat agent who can pick up where the chatbot is left off.
Past conversations
Interactions are recorded and mailed once the conversation is ended.
What's more – once you are ready for a chatbot,
sign up,
publish it, and use the code snippet on your website.
Frequently Asked Questions
These are some top questions we get and our responses.
If you still have questions, please contact us.
A bot is a software that executes automated tasks online. Meanwhile, a chatbot is designed to engage in chat interactions.
How are chat programs different?
Chat interactions can be categorised into three main types:
1) Live Chat; 2) LLM-based Chatbot; 3. Hybrid (a blend of Live Chat and Chatbot).
Live Chat is an immediate, one-on-one dialogue between a user and a support representative. Instead of a phone conversation with customer support, users interact via an on-site chatbox.
Chatbot: This smart conversational agent is designed to mimic human-like chats, assisting visitors on your website or platform.
Chatbots can be:
a) Menu-driven with predefined options (like a decision tree with quick responses) or
b) Powered by deep learning models, such as LLM.
Enrol Chat: This is a hybrid model encompassing all the features mentioned. Plus, it has the added capability of API integration, allowing the bot to connect with backend systems seamlessly. This ensures users can retrieve specific information, like booking medical appointments or tracking shipments.
Do I need a chatbot for my site?
Your website is your virtual storefront.
Did you realise that half of your web visitors exit within two minutes and often never return? How can you retain their attention? Ensure they locate what they seek. Promptly address their inquiries.
Initiate a dialogue by setting up a chatbot when they arrive on your site.
A chatbot can juggle interactions with thousands of customers simultaneously. Engage potential clients without adding to your team. In contrast, a human chat representative can typically manage just 2 concurrent chats.
Can a chatbot interface with our backend business systems?
Yes. You can link your chatbot to backend business systems using APIs, enhancing customer interaction with your offerings.
For instance, AVLView.com, a fleet management service, utilised API integrations for its chatbot to address live fleet operational inquiries. The Enrol chatbot aids fleet owners in logging support issues, answering their queries, and producing fleet reports through chat.
Moreover, with Enrol's API connections, seamlessly integrate the chatbot with your operational systems to automate scheduling tasks such as booking appointments, processing payments, scheduling online bookings, etc.
How do I build a chatbot?
Creating a functional chatbot is as easy as 1-2-3-4.
Follow these straightforward steps: 1) Register for an Enrol account, 2) Input your website. URL or upload PDF, Doc, or CSV files with your business details; 3) Test your chatbot's responses; and 4) Launch your bot.
Once set up, it'll kickstart conversations, pose queries, and offer valuable insights to your site visitors.
Why do I upload the data?
Like teaching a new person at a job, chatbots need teaching, too, to chat better. When people visit your website and talk to the chatbot, they use all sorts of words and questions, hoping for an answer.
Because everyone is different, we often don't ask things the same way. As the bot chats more, it tries to find answers it already knows. If it recognizes the question, it gives a known answer. If not, it does its best to give a good reply.
The best way to teach a bot is with real chat examples. It depends on the job you give the bot. For example, if Enrol chatbot's job is about sales, it'll learn from sales questions. If its job is helping, then it'll learn from support questions.
Can a chatbot replace a customer service agent?
While it can't do everything, a chatbot can tackle about 80% of service staff jobs.
With a chatbot on your site, you're always there for visitors—it's like they have help available around the clock. A chatbot can chat with thousands of people at once.
If a chat needs a human touch, a hybrid chatbot can pass it to a team member to continue the conversation. There's hardly any pause or confusion thanks to smooth info handling and chat tools. So, using a chatbot is like having a huge help team but way cheaper.
How can a chatbot increase conversions?
Imagine your website is like a toy store. Some toy stores are set up to help you find and buy toys easily, while others might look cool but make it hard to find stuff.
Adding a chatbot to your website is like having a robot assistant in the store. This robot can tell visitors all about the toys, answer questions, and help them decide what to buy.
Regular store helpers, like humans, might get tired or miss a few questions. They can't be everywhere and help everyone.
But a chatbot? It's always ready!
Here's the cool part: when people can get answers and help fast, they're more likely to buy something. So, a chatbot is like a magic helper that can make more people buy toys (or whatever you're selling) from your store!
What languages enrol the chatbot support?
Right now, English is fully supported. While Enrol chatbot can chat in many popular languages, there might be small inaccuracies in the replies.