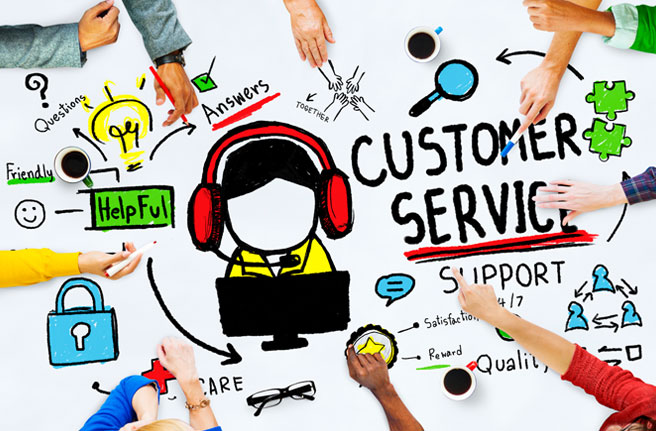 Customer service is at the front line of your business. The first thing people notice about you and your business is how you treat and communicate with them. That makes the first impression, and the most lasting one.
With every year, consumers expect more and more from customer service:
"Globally, 54% of all consumers say that they have higher customer service expectations than they did just one year ago". (Microsoft)
If you can't offer the level of custom service they expect, your potential buyers will take their business somewhere else.
As a business owner, you need to know all your numbers – and the cost of customer service is one of the most neglected metrics.
Let's take a look at customer service cost, what it's made of, and what are the revenue-safe ways to optimize expenses.
The cost of customer service
Calculating the direct costs of customer service for your business is pretty straightforward.
There are customer service metrics that you need to track. Depending on what primary channel you are using, these metrics would include
cost per call
cost per agent
abandon rate
average speed of answer
average handle time
etc.
You can see the full list of useful customer service metrics here.
All of these deal with your direct expenses: employee and contractor salary, training cost, the price of tools, and other costs.
If you outsource your customer service then the cost is even more simple to calculate – whatever you are paying to your contractors is your direct customer service cost.
You can optimize these costs by switching to cheaper tools, hiring cheaper employees, increasing the workload of your employees, and so on. Bear in mind, most of these tactics would actually reduce the quality of your service.
However, there is a lot beneath the surface here. If you look at the big picture and the long-term perspective, the costs reach way beyond what you pay to your agents.
The true cost of customer service
The way you communicate with your customers directly impacts your sales and revenue.
It's hard to calculate indirect costs of customer support precisely, so take one thing for granted: customer service means much, much more than most business owners think.
Brand loyalty
Customer service determines whether your buyers will prefer your products and services to competition:
"96% of consumers worldwide say customer service is an important factor in their choice of loyalty to a brand". Microsoft
When treated right, customers are not likely to go through the hassle of looking for an alternative product or service. Timely replies, polite communication, effective solutions – everything keeps your customers coming back to you.
Good customer service = more sales
Upselling and cross-selling becomes extremely easy if you have stellar customer service.
Most businesses owe a large chunk of their revenue to upsells and cross-sells, and these tactics only work with loyal, satisfied customers.
"90% of Americans use customer service as a factor in deciding whether or not to do business with a company". AmericanExpress
While shopping for goods and services most consumers are evaluating multiple offers. Most of them get in touch with vendors and get quotes – and the way they get treated by customer service directly impacts the purchase decision.
The sale often goes not to the company with the best product, but to the company with the best customer service.
There are cheap and modern ways to improve your customer experience and close more deals. The best and most obvious option for 2021 is to use a smart chat bot that greets people on your site and helps them navigate.
You could have chatbots in all your messengers too – and make sure every customer gets attention fast and using the channel they are comfortable with.
Poor customer service cost and effects
Bad customer service kills businesses.
"The #1 reason customers switch to a new brand is feeling unappreciated". New Voice Media
You just can't afford having poor service. No matter how good your product is, if the competition is fast and efficient with their customer service – they will get more sales.
This is the reality of 2021: most likely your competition does it faster, better, and cheaper.
What makes customer service great?
The support your clients and buyers get needs to be based on two main pillars: speed and effectiveness.
First, good service needs to be FAST. We mean, immediately-type fast.
Chatbots come extremely handy here. A smart chat bot installed on your site can help prospective customers get a lot of initial info – and every pre-sales conversation can be escalated to a live rep if necessary.
Second, good customer service is effective.
A fast and polite response is of no use if it does not solve any problems. Make sure your employees have enough competence and permissions to actually solve problems.
"27% of Americans report "lack of effectiveness" as their number one frustration with customer service". Statista
How to cut costs and save on customer service
The first and the most important rule of any optimization is to know your numbers.
Run an audit and figure out how long it takes to get help from you, how effective your help is, and what is the overall customer satisfaction with your support.
Please keep in mind however that cutting customer service costs is not your #1 goal. Your #1 goal is to earn more money, and to achieve that you in fact might need to spend more on resources.
Again, know your numbers to be able to make judgement.
Train your staff.
If your employees have knowledge gaps they won't be effective. Make sure you're running effective and uniform training for your staff. Update obsolete training materials frequently.
Use digital tools.
Again, chatbots are a must in 2021.
Consumers are getting more and more used to digital self-serve tools, so a chat bot is not surprising anyone anymore.
"More than 6 out of 10 U.S. consumers say that their go-to channel for simple inquiries is a digital self-serve tool (such as a website, mobile app, voice response system or online chat)".
That was in 2017, you can only imagine how used the public is to chatbots in 2021.
Maximize the selling potential of your support.
The way you set them up and use them also matters a lot.
Many businesses have found value in having a smart chatbot backed by a live operator. If the chatbot is unable to give the answer the request can be escalated to a live employee. That also helps reduce the support workload of your employees so they can focus on selling more actively.
Don't leave money on the table. Re-visit your customer replies and sequences and see if you can plug more upselling and cross-selling there.
When you treat your customer service as a money-making asset, you start getting a whole new perspective on what customer support is and what can be done with it.