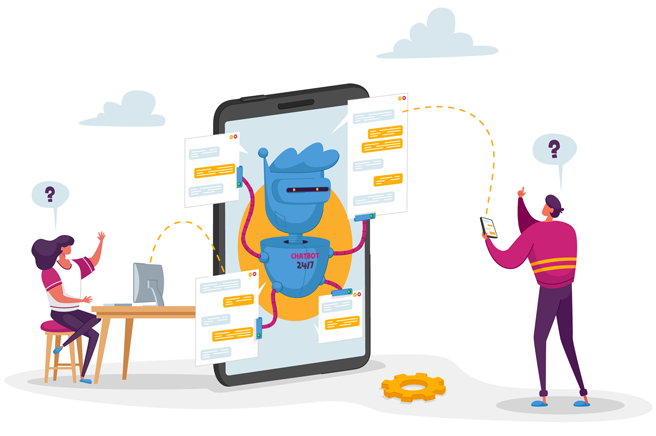 I'm sure you know the importance of customer service and customer relations. We all know that adequately handling customers will lead to a surge in sales.
If your marketing and sales strategies' goal is to sell more, you should teach your bots to ask relevant questions.
Let's consider an example.
Someone visits your website and starts a conversation. Initially, you would be looking forward to commencing the qualification process.
However, the conversation could also be from your existing client who had recently logged out from your site.
It would take a little bit of extra effort in such situations before you realize that the website visitor was not really getting her hands on inquiring as a new customer but were instead reaching out for some help using your product or service.
This means the client should have been connected directly with the customer support team.
This process could go time-consuming – identifying what a web visitor wanted and finding out how to direct them to the customer support team.
This is where a question bot, if used right, can really help.
In such a situation, the question bot would be optimized to ask relevant questions over a chat conversation, offering an elegant, simple way to make sure conversations went to the right team.
E.g., a lead qualifying bot would be coming up with questions like: "Have you previously made a purchase?" or "Do you have an account with us"?
The answer could be positive or negative.
Whatever that be, one thing stands simple: Your chatbot would work on deciding whether to continue the conversation for leads or to connect with the customer support team.
In the example above, the visitor, who would probably be connected with the customer support team, is asked questions revolving around the contact details and the problems she faces to be discussed with the team.
It might look like a simple step of the game, but it dynamically alters how you take in more leads.
Eventually, that would earn more credibility for your business, which can lead to more sales.
A chatbot, therefore, can strategically be used to make the overall client experience more personal.
Asking the right questions can help you segment your customers and personalize their experience.
The results you see would be instant; the seemingly simple yet effective addition of conditions by routing these questions can help with the consumer journey.
Here's how a thoughtful question bot can help you sell more.
1. A question bot Adds speed and accuracy to your business.
Your prospects need quick responses to their queries. And if you make them wait, you lose them.
They would instead go to where their answers would get replies in an instant.
In fact, one quality used by Google to rate how excellent your website is the time taken for the site to respond and load.
This is to show you how impatient humans have become.
Check this out.
Most people would instead open their browsers and check for the meaning of an unfamiliar word online than open the traditional dictionary to check for the term.
With a question bot, it is not just the speed; it is also the accuracy it responds to web visitors.
Error with information supply is almost impossible with the question bot.
There can only be an error if you fed your bot with a piece of erroneous information.
A question bot does not get tired; it is always there to respond quickly to its demands.
Most people often shy away from emails because of how formal mails sound and the time taken to respond. Others would instead not place a phone call at all.
So, resorting to question bots to keep your customers engaged is the new gold. If you can keep the attention of your customer, you would most likely make more sales.
2. It helps to engage more with your web visitors
A well-developed bot can engage with your prospects and keep them coming back to your website often.
The goal of every marketing campaign online is to get your prospect to look at what you have in store and then make purchases.
A bot goes a long way in assisting you in recognizing the target audience's demographics.
It helps determine a website visitor's intent, interests, personal preferences, and dislikes. What's more, the chatbot might also be used in conducting tests while interacting with a visitor.
It can also make recommendations based on the type of question the prospect asked.
For example, if she asked a question on the availability of, say, 'Harry Potter books', the bot, after filling them in about Harry Potter, can go further to recommend 'Lord of the rings.'
This might also pique her interest since both books are in the same genre of fiction. E-commerce sites use this method a lot.
The more customers that land on your site to check out what you've got, the more chances that they buy something or at least add to the cart before leaving. So, you have a bot that has doubled as a customer service officer and a marketer or sales lead.
3. A question bot can help you bag repeated sales
While you want to gain new customers, you also want to make sure that you do not neglect existing ones. Often, your existing customers do a lot of adverts and marketing for you via referrals. Your question bot can be trained to convince your customers to keep buying.
You, therefore, have to keep them interested, keep them coming for more. Ask questions that make existing customers feel like they matter. Viz., 'How was product XYZ?' 'Did you encounter stress navigating through our site or getting the info you need?' Or ask customers if they will refer your service to a family member or a friend.
Nothing pleases existing customers than discounts. Your bot can offer discounts to existing customers, which will spur them to do more with you.
Utilize special events like birthdays, religious and national holidays to convey to your customer how much they mean to you and your business. A business that people see and hear from often is a business that people patronize. So, use the bot to stay within sight of your customer as this would increase sales.
4. It can encourage and help clients with conversion
Question bots can shine well when giving a final push to your prospects regarding buying your products or services.
Shoppers from around the world abandon their carts during online shopping. It can be the case for e-commerce stores, especially as around 70% of the shoppers online leave their carts on the platforms.
However, the bots can get even more valuable at doing things as they have a friendlier voice for branding and encouraging conversations. These bots can usually respond to the problems customers face, like abandoning carts, for example.
So, for getting them back towards a path ending with a sale, the business can choose measures like sending out email reminders to the customers.
In this way, the bot would get a prospect back for completing a purchase that they did not make.
5. Motivates prospects to leave their contact details
Website forms are on various platforms for quite a while and are among the most popular techniques for collecting information about the customer.
This includes email addresses, full names, preferences, and the list goes on. Many people would leave the platform without sharing their information as the form gets long.
Active marketers are quickly phasing out the forms and substituting them with question bots.
Now, rather than just filling out a long, boring survey, a visitor on the site can only give some basic information in the chatbot, all by engaging in a quick talk.
The bot would throw in some questions, and the leads would provide personal information by answering the chat. The process would become productive and easy for all the prospects.
Some questions can also have a section for auto-replies, so some leads come fast, saving lots of time.
What's More?
The advantages don't end here. Chatbots are an excellent way to educate the prospects and lead as it is crucial.
You can make the process pretty simple using a question bot that would help you target the clients and turn them into subscribers.
For instance, if you are operating in a real estate area, you would make a chatbot for answering questions related to searching properties, choosing a home, or some payment plans.
On the other side, if you own a blog covering many aspects of the services or products you are offering to your clients, the bot would help you generate more leads to the necessary information. Therefore, you would redirect from the landing pages, messaging apps, or social media to interest topics.
In this article, we have listed 5 ways a question bot can help you sell more, and it is wise if you use this technology to boost your business.
The bots increase conversion and sales rates.
Your customer relation plan should include question bots. This is because they can offer better engagement and a personalized experience for your customers.
They have a better open rate than emails because of how quick they are.
Your bot can be lively, engaging your customers in a fun way yet meeting the purpose of its creation.